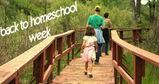 Wednesday, August 8---Getting out there...
Extra-curricular activities, community involvement, volunteering, sports teams, music lessons, making sure your kids have opportunities to be social, co-ops, etc., etc., etc...


(To read other responses to this question, please go to the main page)
When we first began homeschooling, there were a handful of families just starting out and we met together weekly. It was not only a wonderful resource place, but the fellowship was a blessing, too. As everyone's experience grew over the years, as well as the size of our families, the need for such support faded. If someone wanted to take a field trip, they'd set it up and call others with the information. We'd randomly gather for picnics, etc. and for many years met weekly with a group to play volleyball. There is a homeschool co-op group operating now in our area for younger families.
We've done local sports leagues on and off through the years. Baseball, gymnastics, ballet, and soccer are what come to mind. We tend to be a physically active family anyways who enjoy having friends over to play, so it isn't unusual for a handful of kids to be swimming down at the lake in the summer or a group playing broomball on the lake's ice in the winter.
There's also been piano and guitar lessons for a couple of the older ones and right now I have girls who are interested in violin and guitar.
Our family has also been active in our church's AWANA Club program which covers pre-school through high school. My husband and I have actively served in different leadership roles for twenty years while all the kids have participated. Babies traveled along with us through the evening programming in a backpack :-)

Quite honestly, homeschooling has been a positive social experience for our family. There is automatically a lot of interaction with a large family and I've always told them that if they can't get along with one another, they can't have friends over. So, they do learn how to work through difficulties and I try to only intervene when necessary. And I believe outside of our home our kids can easily carry on a conversation with someone of any age, young or old. Besides, they all have a good sense of humor and love to smile - we all know how contagious that is!

Blessings,
Tammy ~

@

~