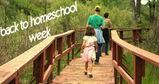 Thursday, August 9---If I had only known...
What have you learned on your homeschooling journey? What would you/did you change? This is an opportunity to encourage others who are just starting out or who are struggling with issues that seem unsolvable. It is also a perfect opportunity to tell us about one of those days made you want to throw in the towel. A funny story? Perfect!


(To read other responses to this question, please go to the main page)
Oh, perhaps I should have skipped this day! My mind is rambling through this huge file drawer filled with folders of what I've learned. I guess I have to hit just a few main points.
Determine a vision! - I like this phrase - "a fixity of purpose". Before you take one step, resolve in your mind why you want to homeschool your children. Write it out. Pray over it. Research it. Pray some more. When you believe everything has fallen into place, move forward with fortitude. And continue praying! Why? Because this decision affects your life 24/7. It is not for the faint hearted. It is a commitment like no other. A sacrifice on many levels. And if your vision hasn't been solidly placed into the foundation of your homeschooling, when the strong storms blow through your life, the whole thing will come toppling down.
Priorities! - Keeping priorities in order is a must. God, Husband, Kids, Others. Always commit your day to the Lord. Don't neglect your husband as he tends to be the one at the end of the list at the end of a long day. Take time to fill each one of your children's "tanks" daily with a bit of one-on-one. Get involved in outside activities only if it doesn't infringe on your main responsibilities. Learn the word NO, in fact, practice it right now :-)
Flexibility! - If you've committed your day to the Lord, then you'll be ready to adjust for whatever the day may bring. A child suddenly sick. A dog with a mouth full of porcupine quills in its mouth needing to go the vet. A husband with a day off. An ailing parent in their final days. Expect the unexpected. Realize that learning takes place even on these kinds of days.
Burn out! - It does happen. When you recognize it coming on, take off the teacher hat and just focus on the things you love about being a mom. Snuggle on the couch and watch a good movie with the kids. Cook a favorite meal for your family. Write a note of encouragement to someone else. Take a bubble bath after the kids are in bed. Skip school. Period. When you are refreshed and recharged, you'll catch up in no time with enthusiasm.
Molding not cloning! - Remember that your children are God's gift to you. They aren't yours. They aren't going to be just like you! In fact, they may be very different than you, and that's okay. Accept their differences and learn to love them just as God made them. Discover their learning styles and work with them adjusting learning along the way. Rejoice in their uniqueness and God's special design for their future which may look very different from what you as a parent expected.
Learning! - What a huge undertaking it seems when you start out. A huge black hole of unknowns. And I think the first year is the hardest as you learn the ropes - what curriculum you love or hate, what schedule works best, how to counter all the questions everyone asks, how to figure out your role of teacher and mom. But in the end, you'll find that your children learn, especially when you aren't looking. And God - in His goodness, mercy, and grace - takes all the mistakes you made along the way and He turns them into something beautiful.
Unique! - Remember, your homeschool experience will look like no one else's because each family is unique. Your best friend may have a great curriculum which would be a disaster for your family. Take the ideas of others and use what you can, toss the rest. There may even come a time when homeschooling isn't working or the right option and new choices need to be considered. The important thing is to have a heart's desire for God's will for your family and trust His leading. And pray some more!
I know that as soon as I hit post, I'll think of other things. And I know this will be a topic that at each blogsite I read today I'll be saying, "oh, ya! that too!"
Blessings,
Tammy ~

@

~